Thanks to the rapidly growing consumer awareness of all the benefits of modern residential metal roofing, steel roofs stand out among other roofing products, many homeowners concerned with the aesthetic appeal are often positively impressed with the wide variety of contemporary styles, profiles, and vibrant colors available in modern steel roofing, include low life-cycle cost, superior energy efficiency, and sustainability.
Many savvy homeowners are now considering steel sheet panels as a viable alternative roof. Hence, it is hardly a surprise that metal, which is by and large steel, has become the fastest-growing segment in the residential roofing market.
Did you know?
1. Steel is Exceptionally Strong and Durable
Steel is one of the strongest, most durable building materials, which is why it is so widely used in commercial and industrial construction. A steel roof will not be susceptible to rot, decay, discoloration, mold growth, or termite infestation. The superior durability of steel will free you from the expensive and time-consuming maintenance and repair issues that are often a necessary part of owning most other types of roofing systems.
2. Resistant to Severe Weather
Steel is famous all over the world for its ability to stand up to severe weather conditions, and for good reason. Steel is specifically designed to withstand harsh climates and extreme temperature fluctuations. With a steel roof, your house will be safe and secure against hail, snow, wind, and fire, as steel roofs meet and exceed all local strict building codes. Steel roofing is resistant to structural impact damage from hail. Steel roofs carry a Class 90 Wind Uplift rating and can withstand winds of up to 120 mph, your steel roof will never be damaged or blown off by the strong wind. Steel is a non-combustible material and will not spread the fire. Steel roofs carry the highest (Class A) Fire Resistance rating, your steel roof will not be susceptible to windblown sparks
3. Abundance of Steel Roof Styles, Profiles, and Colors
Thanks to the cutting-edge technological advancements, modern steel roofs offer a multitude of styles and color choices that will satisfy any aesthetic preferences. For homeowners who would like the look of the roof to enhance the contemporary style of their homes, styles, and profiles standing seam, vertical rib, or corrugated steel, are a perfect match.
4. Long-Lasting and Virtually Maintenance Free Service
Long service life is one of the best benefits of metal roofing, and one of the main reasons for its growing popularity among homeowners. A properly configured and installed steel roof can last at least fifty years, which means that most likely it will be the last roof you will need to install on your house.
What many homeowners love is that this long service life is also maintenance-free. At most, you can periodically wash your steel roof to remove any debris. A steel roof's maintenance-free service life provides a huge relief, as most roofing systems require a continuous investment of money and time for maintenance and repair.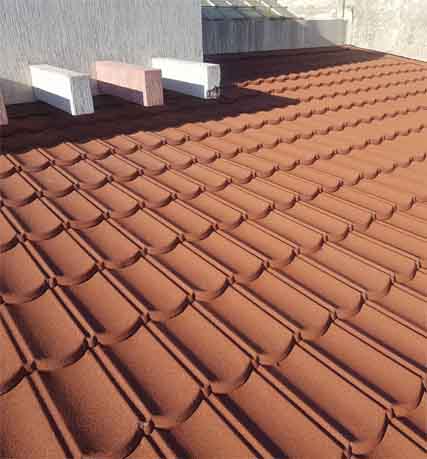 5. Sustainability of Metal
Metal is a sustainable and durable alternative to asphalt or cedar. Metal roofs can last at least three times as long as asphalt shingles, without requiring as much maintenance. At least 30 percent of the material that is used to create a metal roof has been previously recycled. Some metal roofs are made of 100 percent recycled content. — This, coupled with the superior durability and long lifespan, makes metal an environmentally friendly roofing option. All metal roofs can be fully recycled at the end of their service life.
In fact, most homeowners who choose to install a metal roof on their home will never have to think about re-roofing again. If you are a homeowner considering installing a new metal roof on your house, then undoubtedly, one of the burning questions on your mind is how much will it cost?
Verdict: a metal roof will likely prove to be the most cost-effective roofing choice when viewed over a long-enough timeframe and through a lens of a long-term investment in the roof's durability and longevity, improving the home's overall curb appeal, and benefiting financially from the greatly improved energy efficiency of a metal roof.