Sangobuild Butyl Rubber Tapes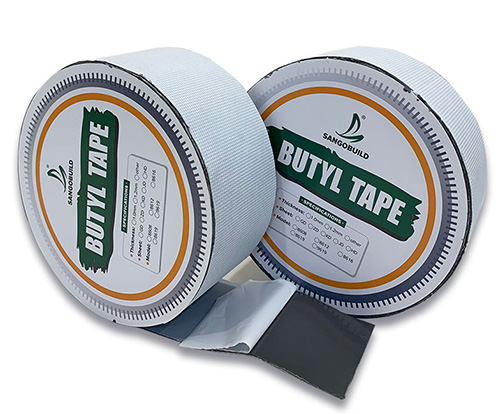 Butyl tape is a kind of lifelong non-curing self-adhesive sealing waterproof tape made of butyl rubber as the main raw material, mixed with other additives, and processed through advanced technology. It has a good performance on the surface of various materials.
Apart from strong adhesion, and excellent weather resistance, aging resistance and water resistance at the same time, it can also play a role in sealing, damping and protecting the surface of the adhered object.
Butyl tape products are completely solvent-free, so they do not shrink or emit toxic gases. Because they do not solidify for a lifetime, they have a good resilience to the thermal expansion and contraction of the surface.

Substrate: Butyl rubber, with excellent air-tightness and water-tightness.

Backing Film: SAN-GOBUILD can customize the backing film according to the different requirements of customers for various kinds of applications, and provide customers with different types of excellent backing films such as high weather resistance and anti-aging ones.
SANGOBUILD has independently developed and mastered the core technology of butyl rubber manufacturing. Now it has launched more than a dozen models butyl self-adhesive waterproof tape product. The excellent base material has better air-tightness and water-tightness. We have established long-term cooperation with construction parties, agents, municipal engineering builders and other customers.
Butyl Tape Display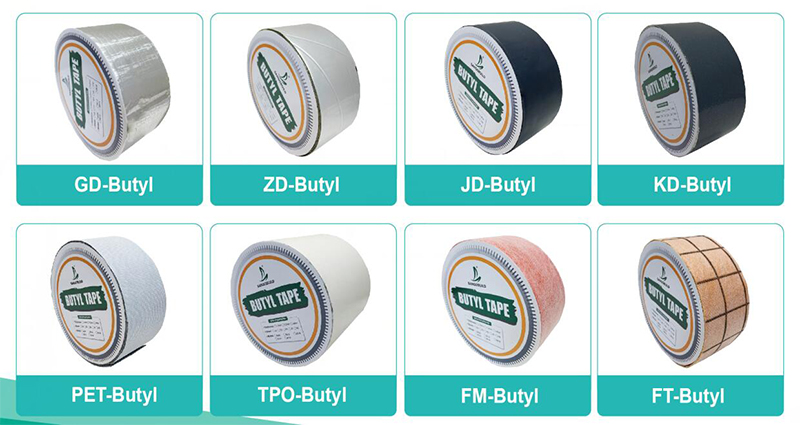 Features
●Excellent mechanical properties: High bond strength and tensile strength, good elastic elongation, and strong adaptability to interface deformation and cracking.
●Stable chemical properties: Excellent chemical resistance, weather resistance and corrosion resistance, the service life can be as long as 15 to 30 years according to the different butyl rubbers.
●Reliable application performance: Its adhesiveness, waterproofness, sealing, low temperature resistance, high temperature resistance, good followability, and good dimensional stability.
●Simple application process: Peel and stick. Easy to use without roasting.