Fish Scale Shingles
Asphalt shingles are one of the most popular roofing products on the market. Known for their long life, durability, and wide selection of styles and colors, asphalt shingles are a great economical alternative to other roofing products. With options ranging from standard to luxury, there is an affordable option for every budget. Additionally, they are easy to install and repair, and proper attic ventilation and installation help maximize the life of asphalt shingles.

Specification
| | |
| --- | --- |
| Product Name | Fish Scale Shingles |
| Material | Stone Granules+Fiberglass+Asphalt |
| Color | Black, Red, Blue, Green, Customized |
| Length | 1000mm(±3.00mm) |
| Width | 333mm(±3.00mm) |
| Thickness | 2.60mm(±0.1mm) |
| Weight | 27kgs/bundle±1kg |
| Temperature Range | -45℃-90℃ |
| Tensile Strength(Longitudinal)(N/50mm) | >=530 |
| Tensile Strength(Transversal)(N/50mm) | >=550 |
| Heat Resistance | No flow, slide, drippage and bubble(90°C) |
| Flexibility | No crack being bent for 10°C |
| Nail Resistance | 78N |
| Resist To Tearing | >100N |
| Weather Exposure | 145mm |
| Wind Resistance | 130km/h |
| Warranty | 30 years |
| Certificate | ISO9001 |
| Used | Residential, Commercial construction roof |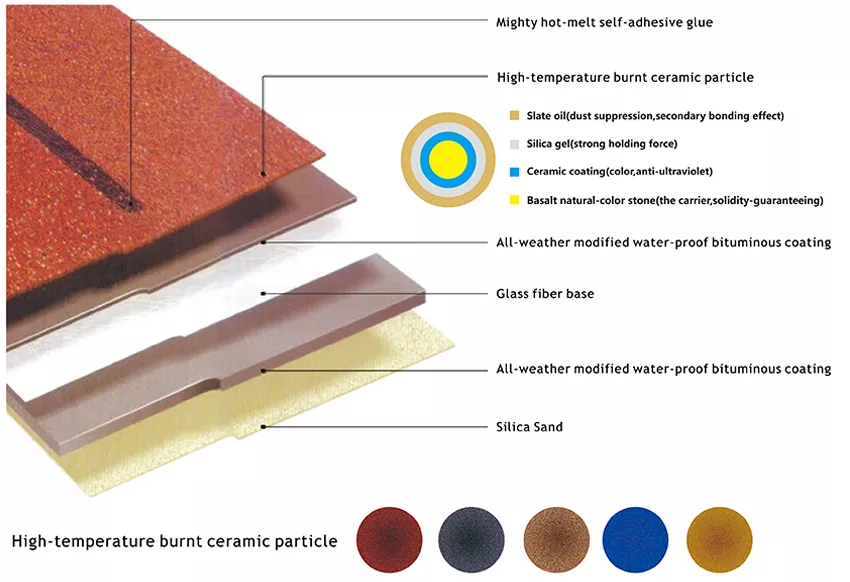 What's Asphalt Shingles?
Although wood shingles, slate, tile, metal, and a host of other materials can be used to surface house roofs, asphalt stands out as the roofing material of choice because it is relatively affordable, easy to apply, fire-resistant, comparatively lightweight, available almost every-where, and durable enough to last for 15 to 40 years.
In the past, uninteresting appearance was the biggest strike against asphalt roofing-it just didn't offer the visual interest and charm of classic materials such as wood and tile. But things have changed.Today, asphalt shingles are sold in many textures, grades, and styles that are reasonably convincing at mimicking the look and character of traditional materials.
The Advantage of Fish Scale Asphalt Shingle
1.Economic
The cost of asphalt shingle is lower than many other roofing tiles, and the related charge for transportation and installment are reduced much because of lightweight and easy installment.
2.Lightweight and easy to install
The weight of tile shingles is much less weight compared with other roofing material, so it reduces the requirement for load-bearing support of roofing.
And the process of installment is easy, there are no special accessories are required and it easy to cut, fasten and fit. Asphalt shingles are considered the easiest roofing materials to install.
3.Wide application
Asphalt shingle could use for more wide-angle roofing slope than other roofing material, it could be used for 15°-90° roofing slope. It also could be used in any shape of the roofing and there are many colors could for choice.
4.Noise reduction and heat insulation
The stone chips could reduce the noise when raining or hailing, it also could insulate from heat when exposing to extremely UV and keep warm in Winter.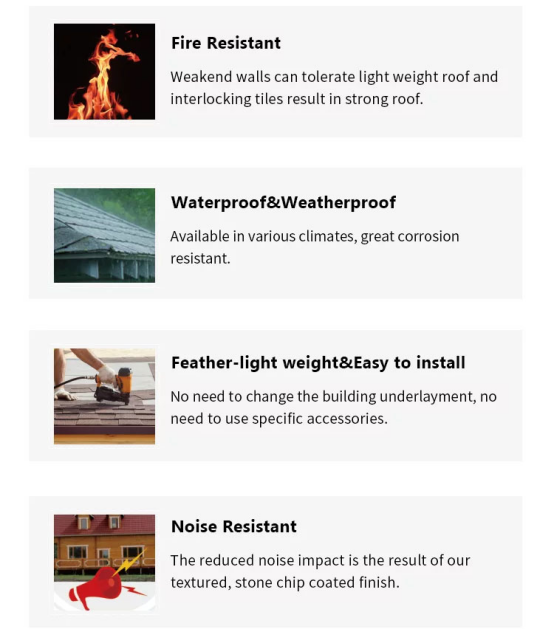 Installation