"San-gobuild" K-style drainage system is a kind of PVC rain gutter system developed by SINGER on the basis of breaking the traditional drainage system and in-depth studying foreign roof drainage and combining with the characterizes domestic buildings. Complete accessories, and organized drainage, to avoid free falling into the water sludge splashed on the wall to affect the wall effect. Downspout conversion joint,arc-shaped outlet and other accessories help the balcony and floor drain with unified drainage and air conditioning condensation organized water features, thus ensuring the system is more comprehensive, to meet the requirements of the domestic and abroad variety building types.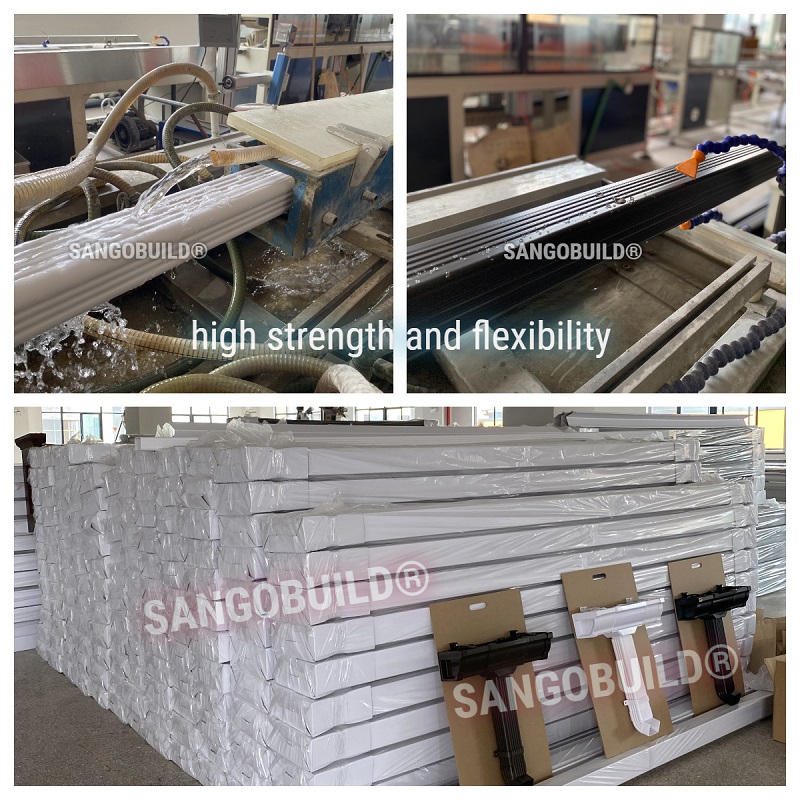 Product Characteristics
Strength: PVC is made from molded plastic which means that the gutters are formed in one continuous unit. There is no paint to scratch or welded seams to corrode over time. In the shape and size of gutters, plastic is stronger than the metal alternatives. The weight of snow, ice or other loads will have less of an effect on PVC gutters. Plus, ladders will not dent the material and any blemishes on the surface will not be visible.
Flexibility: Another reason to use PVC is its flexibility. Unlike metal gutters, PVC will not lose its shape when it bows slightly. In fact, it is manufactured to be able to bow with weight. Metal gutters are flexible, but when their shape is distorted they stay that way. Bending, denting and twisting effects in metal gutters are easily visible and can become an eyesore. With PVC, you avoid these problems.
Price: Using PVC for your gutters is less expensive than installing metal. You do not want the final result to look cheap, but if you pick the right product, you will end up with a nice system of gutters at an affordable price. Be sure to hire the right people to install it so that you do not have to deal with poor workmanship.
Installation: PVC gutters are easy to install. The sections of PVC are very lightweight and snap together quickly. With the right tools, it is a job that you can do yourself without a lot of expense. There is a skill to the installation of gutters including the proper mounting and pitch, but because PVC is less burdensome to work with, the job is easier.
Product Structure
DS Tile offers a unique elegance to any home, adding the beauty and style of Mediterranean Tile. A long-standing reputation established for its performance, longevity and versatility, DS Tile is an ideal alternative to traditional tile products.We produce the whole series of roofing system materials with the most professional construction team, providing customers with the most systematized service.