Shake Roof Tiles
Shake roof tiles have the wood grain look of a traditional milkshake. With its deep ribbed profile designed to enhance shadow lines and create visual contrast, you can enjoy this look along with all the benefits of stone-coated steel: excellent weather and fire resistance, energy efficiency and long life. Textured finish tiles are available in a variety of colors, from dark charcoal to earthy browns and greens, as well as a mix of weathered milkshake tones.
Roofing materials are out of sync with the weather year-round due to the damaging effects of sun, hail, strong winds and freeze-thaw cycles. The unique composite structure outperforms natural slate and cedar shake in terms of Class A fire rating, Class 4 impact rating and 110 mph wind speed rating. But the true genius of the roof is its ability to provide lasting beauty and a sense of ongoing pride.
Specification
| | |
| --- | --- |
| Product Name | Shake Tile |
| Material | Galvalume steel(Aluminum Zinc plated steel sheet=PPGL), Natural stone chip, Acrylic resin glue |
| Color | Black, Red, Blue, Green, Customized |
| Tile Size | 1340x420mm |
| Effective Size | 1290x370mm |
| Thickness | 0.35mm,0.40mm,0.45mm,0.50mm,0.55mm |
| Weight | 2.35-3.50kgs/pc |
| Coverage Area | 0.48sq.m./pc |
| Tiles/Sq.m. | 2.08pcs |
| Certificate | SONCAP, COC, UL, ISO9001, CE |
| Used | Residential, Commercial construction roof |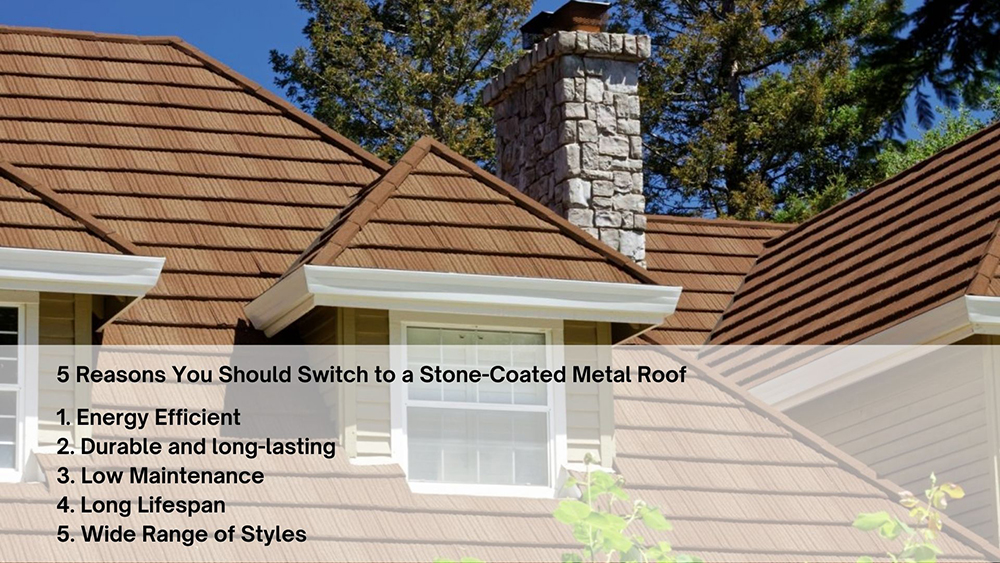 The Advantage of Shake Roof Tiles
Aesthetic Appeal: Shake roof tiles have a timeless and rustic appearance that many homeowners find attractive. They can enhance the overall curb appeal of a home and provide a natural, warm, and inviting look.
Durability: High-quality shake roof tiles can be quite durable, especially when properly maintained. Cedar shakes, in particular, have natural oils that make them resistant to decay and insect infestations. They can withstand harsh weather conditions, including wind, rain, and snow.
Insulation: Shake roof tiles offer natural insulation properties. They help regulate the temperature inside a home, keeping it cooler in the summer and warmer in the winter. This can lead to energy savings and increased comfort.
Eco-Friendly: Shake tiles are often made from sustainable materials, such as cedar. When sourced responsibly, they can be an eco-friendly roofing option. Additionally, wooden shakes are biodegradable, reducing the environmental impact when they are eventually replaced.
Natural Beauty: The aging process of cedar shakes can be aesthetically pleasing, as they develop a silver-gray patina over time. This natural weathering adds character and charm to a home's exterior.
Sound Insulation: Shake tiles can provide sound insulation benefits, reducing exterior noise, such as rain or hail, from entering the home.
Customization: Shake tiles come in various sizes, shapes, and thicknesses, allowing for customization to achieve the desired architectural style and look.
Energy Efficiency: Shake roofs can help reduce energy costs by providing thermal insulation, reducing the need for heating and cooling.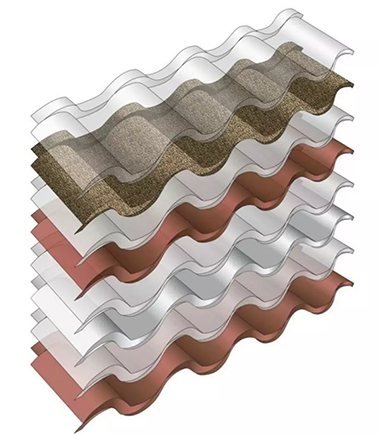 Stone Coated Metal Roof Panel Components
Overglaze – semi-gloss finish; added protection
Stone Granules – color; UV resistance; coverage
Basecoat – adhesion; UV protection; color blended
Acrylic Primer – priming system; enhances adhesion
Aluminum-Zinc Alloy Coating – prevents corrosion; protection
Steel – 0.33mm to 0.55mm thickness; load-bearing; flexible
Aluminum-Zinc Alloy Coating – prevents corrosion; protection
Acrylic Primer – priming system; enhances adhesion
In general, there are 3 main parts of raw material contents:
① Stone Chips ( Beautiful look, effective heat / UV resistant, noise reduction, anti-slip and etc features)
② Galvalume Steel Plate ( Eco-friendly and recyclable material, strong, light-weight, anti-corrosion, waterproof)
③ Acrylic Glue ( Premium sealing performance, strong adhesion, anti-algae)
Cuba Aluminum Roof Building Materials Roof Tiles Haiti Metal Slate Colored Galvalume Panel Corrugated Water Roofing Sheet