Shale Roof Tiles
Shale roof tiles have the wood grain look of a traditional milkshake. With its deep ribbed profile designed to enhance shadow lines and create visual contrast, you can enjoy this look along with all the benefits of stone-coated steel: excellent weather and fire resistance, energy efficiency and long life. Textured finish tiles are available in a variety of colors, from dark charcoal to earthy browns and greens, as well as a mix of weathered milkshake tones.
Roofing materials are out of sync with the weather year-round due to the damaging effects of sun, hail, strong winds and freeze-thaw cycles. The unique composite structure outperforms natural slate and cedar shake in terms of Class A fire rating, Class 4 impact rating and 110 mph wind speed rating. But the true genius of the roof is its ability to provide lasting beauty and a sense of ongoing pride.
Specification
| | |
| --- | --- |
| Product Name | Shake Tile |
| Material | Galvalume steel(Aluminum Zinc plated steel sheet=PPGL), Natural stone chip, Acrylic resin glue |
| Color | Black, Red, Blue, Green, Customized |
| Tile Size | 1340x420mm |
| Effective Size | 1290x370mm |
| Thickness | 0.35mm,0.40mm,0.45mm,0.50mm,0.55mm |
| Weight | 2.35-3.50kgs/pc |
| Coverage Area | 0.5sq.m./pc |
| Tiles/Sq.m. | 2pcs |
| Certificate | SONCAP, COC, UL, ISO9001, CE |
| Used | Residential, Commercial construction roof |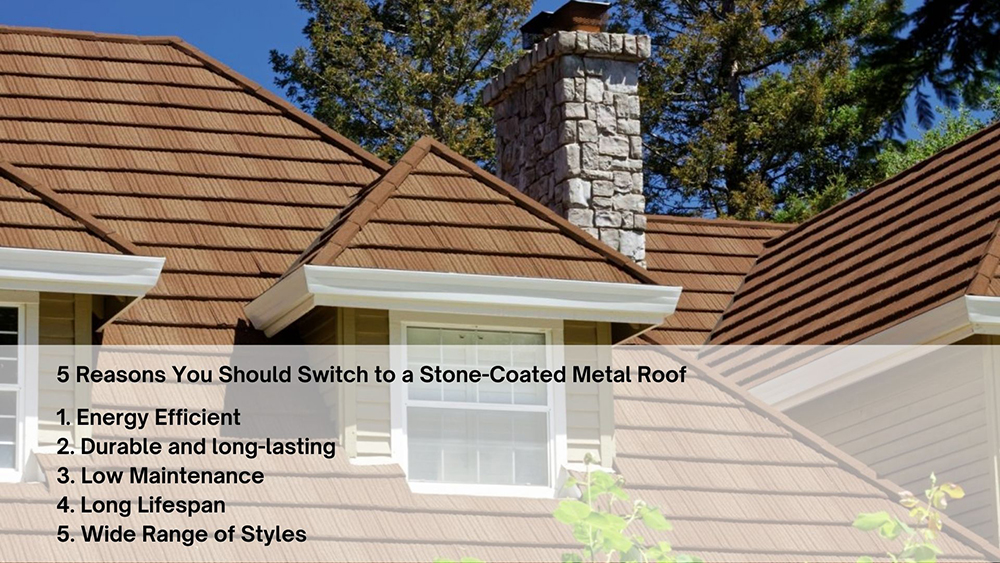 The Advantage of stone roofing tile
1.Excellent durability and waterproof
High-quality aluminum zinc plated steel sheet and natural stone chip coating with acrylic resin glue make stone coated roof tile to superior corrosion resistance and waterproof. The warranty could be last up to 50 years.
2.Lightweight and easy to install
The weight of stone coated metal roof tile is only 1/6 of the traditional tile, only 5.20-6.40kgs/sq.m.It is easy to transport, store and install.
3.Economic
Because it is lightweight but big size, so it usually just takes 3-5days for 2 workers to finish all the installation for a common residence and related charge of shipment and installation be reduced sharply.
4.Noise reduction and heat insulation
The stone chips could reduce the noise when raining or hailing, it also could insulate from heat when exposing to extremely UV and keep warm in Winter.
WHAT'S STONE COATED?
It used to be that there were only a couple of types of metal roofing — corrugated metal, which has certainly improved over time but aesthetically has always been limited in options, or the much more costly copper cladding.
The latest product – stone coated metal roofing. Stone coated steel roofing is combined with the look of tile, shake or shingle or other types to give a strong, durable roof along with fantastic good looks. Whatever the style of your home or property, you will likely be able to find a metal roofing product to match your needs.
What materials do we use for producing 50 years warranty high-quality steel roofing sheets?
First, let's check the structures: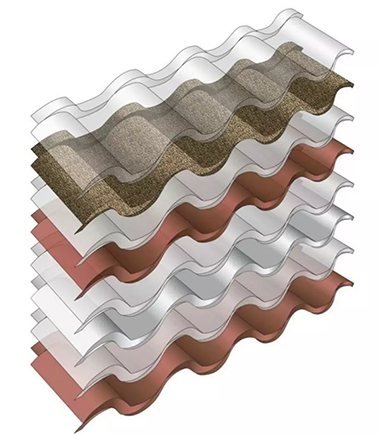 Stone Coated Metal Roof Panel Components
Overglaze – semi-gloss finish; added protection
Stone Granules – color; UV resistance; coverage
Basecoat – adhesion; UV protection; color blended
Acrylic Primer – priming system; enhances adhesion
Aluminum-Zinc Alloy Coating – prevents corrosion; protection
Steel – 0.33mm to 0.55mm thickness; load-bearing; flexible
Aluminum-Zinc Alloy Coating – prevents corrosion; protection
Acrylic Primer – priming system; enhances adhesion
In general, there are 3 main parts of raw material contents:
① Stone Chips ( Beautiful look, effective heat / UV resistant, noise reduction, anti-slip and etc features)
② Galvalume Steel Plate ( Eco-friendly and recyclable material, strong, light-weight, anti-corrosion, waterproof)
③ Acrylic Glue ( Premium sealing performance, strong adhesion, anti-algae)
Cuba Aluminum Roof Building Materials Roof Tiles Haiti Metal Slate Colored Galvalume Panel Corrugated Water Roofing Sheet

Accessories of Roofing System