Tudor Tiles
Clear geometric lines make Tudor roof tiles perfect for both traditional and modern home designs. available in 5 colors and designed for a variety of roof pitches, Tudor profiles offer roof lines that look great and are guaranteed to perform.
Tudor tiles are available in a variety of colors, each of which will weather over time and naturally develop a more pleasing appearance with unique characteristics that only genuine handmade flat roof tiles can provide! No two tudor tiles are alike and vary in shape, color, thickness and size. In this way, they take on a sympathetic "enduring" look with the advantage of guaranteed performance.
Tudor Roof Tiles are manufactured in Hangzhou, China using traditional manufacturing techniques and manufactured to exacting standards using state-of-the-art modern technology kilns.
Choosing a roofing material is a key decision when building or renovating a home, as the roof is the main feature of the building - traditionally made from locally available materials, clay bricks always contain a pleasing aesthetic and durability.
When used as exterior cladding, TUDOR TILEs are an excellent way to add character to a modern property that may already have ordinary and unremarkable machine-made clay or concrete tiles on the roof.
Specification
| | |
| --- | --- |
| Product Name | Tudor Tile |
| Material | Galvalume steel(Aluminum Zinc plated steel sheet=PPGL), Natural stone chip, Acrylic resin glue |
| Color | Black, Red, Blue, Green, Customized |
| Tile Size | 1340x420mm |
| Effective Size | 1290x370mm |
| Thickness | 0.35mm,0.40mm,0.45mm,0.50mm,0.55mm |
| Weight | 2.35-3.50kgs/pc |
| Coverage Area | 0.48sq.m./pc |
| Tiles/Sq.m. | 2.08pcs |
| Certificate | SONCAP, COC, UL, ISO9001, CE |
| Used | Residential, Commercial construction roof |
Finding the right tile for your style? Or having trouble choosing between a few? Requesting a tile sample is a great way to get a feel for the look and feel of our product line and help choose the look of your new roof.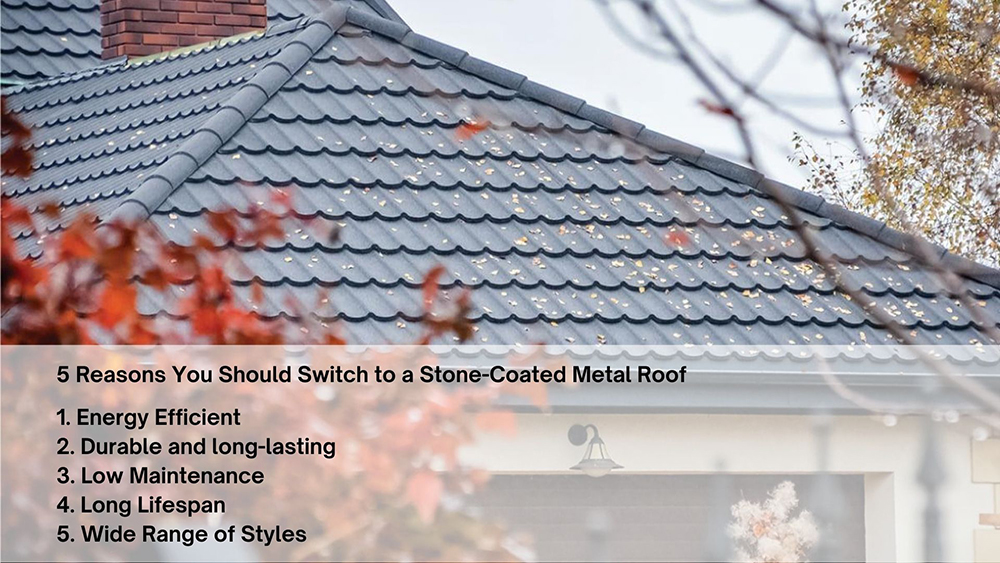 The Advantage of Tudor Tile
Provides sound insulation
Sangobuild roof tiles help keep unwanted noise out. Their advanced insulation means the only noise in your home will be that of you and your family.
Not affected by frost and freezing
Sangobuild roof tiles are perfect for those living in cold climates. They are immune to frost and ice and will not crack or warp no matter how cold the weather is.
Provide thermal insulation
Sangobuild roof tiles make your home feel comfortable year-round while helping save money and the environment through energy savings.
Will not rust, warp or corrode
Sangobuild's concrete roof tiles will not rust, warp or corrode, which is a problem with other roofing materials.
Preservative
Sangobuild roof tiles are ideal for coastal areas subject to ocean winds, spray and salt. All Sangobuild roof tiles are salt safe and will not corrode over time.
WHAT'S STONE COATED?
It used to be that there were only a couple of types of metal roofing — corrugated metal, which has certainly improved over time but aesthetically has always been limited in options, or the much more costly copper cladding.
The latest product – stone coated metal roofing. Stone coated steel roofing is combined with the look of tile, shake or shingle or other types to give a strong, durable roof along with fantastic good looks. Whatever the style of your home or property, you will likely be able to find a metal roofing product to match your needs.
What materials do we use for producing 50 years warranty high-quality steel roofing sheets?
First, let's check the structures: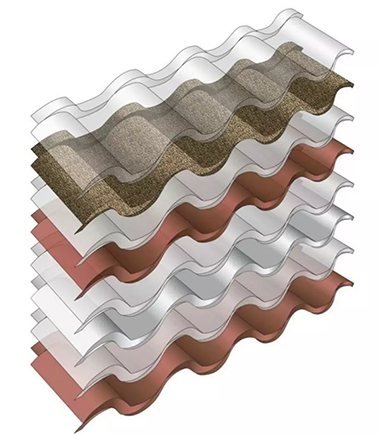 Stone Coated Metal Roof Panel Components
Overglaze – semi-gloss finish; added protection
Stone Granules – color; UV resistance; coverage
Basecoat – adhesion; UV protection; color blended
Acrylic Primer – priming system; enhances adhesion
Aluminum-Zinc Alloy Coating – prevents corrosion; protection
Steel – 0.33mm to 0.55mm thickness; load-bearing; flexible
Aluminum-Zinc Alloy Coating – prevents corrosion; protection
Acrylic Primer – priming system; enhances adhesion
In general, there are 3 main parts of raw material contents:
① Stone Chips ( Beautiful look, effective heat / UV resistant, noise reduction, anti-slip and etc features)
② Galvalume Steel Plate ( Eco-friendly and recyclable material, strong, light-weight, anti-corrosion, waterproof)
③ Acrylic Glue ( Premium sealing performance, strong adhesion, anti-algae)
Cuba Aluminum Roof Building Materials Roof Tiles Haiti Metal Slate Colored Galvalume Panel Corrugated Water Roofing Sheet

Accessories of Roofing System