| | |
| --- | --- |
| Product Name | Shingle Tile |
| Material | Galvalume steel(Aluminum Zinc plated steel sheet=PPGL), Natural stone chip, Acrylic resin glue |
| Color | Black, Red, Blue, Green, Customized |
| Tile Size | 1340x420mm |
| Effective Size | 1290x370mm |
| Thickness | 0.35mm,0.40mm,0.45mm,0.50mm,0.55mm |
| Weight | 2.35-3.50kgs/pc |
| Coverage Area | 0.48sq.m./pc |
| Tiles/Sq.m. | 2.08pcs |
| Certificate | SONCAP, COC, UL, ISO9001, CE |
| Used | Residential, Commercial construction roof |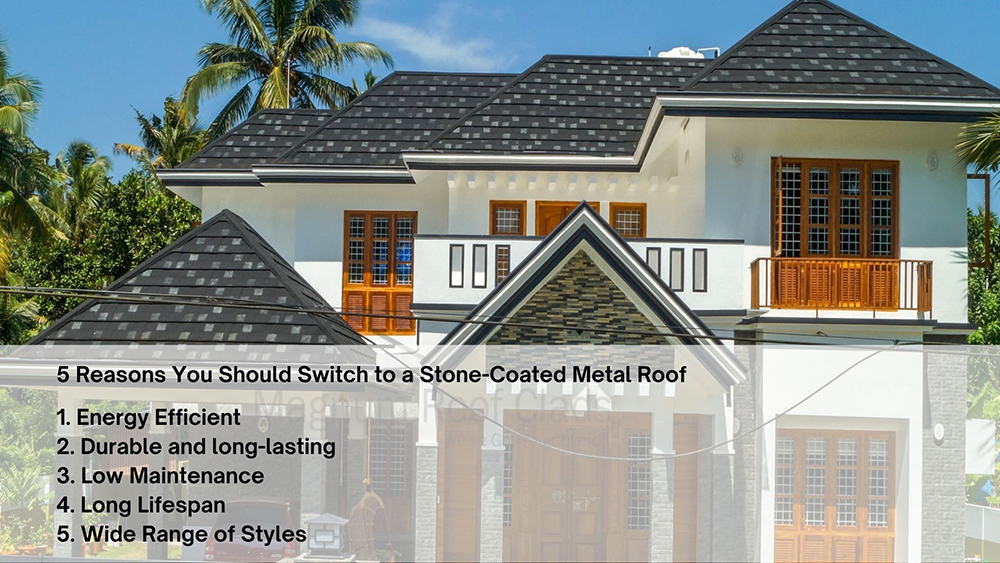 Tile roofs vs. shingle roofs. The Difference
If you're not sure which type of roofing material you want, it helps to compare the characteristics and qualities of tile roofs and shingle roofs, especially as they relate to the climate in which you live.
Price
When it comes to shingle roofing versus tile roofing, shingles are the winner based on price alone. Asphalt shingles may set you back between $3.00 and $5.00 per square foot, while shingles cost more, with materials and installation costing between $4.00 and $5.55 per square foot.
However, keep in mind that clay tile roofs last much longer than asphalt shingle roofs. The average life expectancy of a clay shingle roof is 100 years, while the average life expectancy of an asphalt shingle roof is 20 years.
Weather Resistance
Different climates have different weather patterns, temperature ranges and seasonal variations that can affect roofing materials. In warmer areas, such as the Southeast, shingles reflect sunlight well, keeping the house cooler and reducing the cooling costs of the home. They also do well in snowy climates, and snowfall slides off easily.
In cold climates, shingles are often the preferred choice. The density and durability of shingle roofs can withstand damage from freezing temperatures, and because of the strength of the shingles, the roof can support snow without damage.
Weight
No matter which type of roof you choose, the rest of the structure needs to support its weight. Not every roof can handle shingles, so this is a major consideration when comparing a shingle roof to a tile roof. You can consult with a contractor to determine the actual load-bearing capacity of your home, as weaker or more fragile structures are not always well suited for shingles.
When you are choosing between shingles and tiles, you need to consider cost, your climate, and the load-bearing capacity of your home's overall structure. Both options are perfectly viable, and in some cases it can come down to cost or aesthetic preference.
WHAT'S STONE COATED?
It used to be that there were only a couple of types of metal roofing — corrugated metal, which has certainly improved over time but aesthetically has always been limited in options, or the much more costly copper cladding.
The latest product – stone coated metal roofing. Stone coated steel roofing is combined with the look of tile, shake or shingle or other types to give a strong, durable roof along with fantastic good looks. Whatever the style of your home or property, you will likely be able to find a metal roofing product to match your needs.
What materials do we use for producing 50 years warranty high-quality steel roofing sheets?
First, let's check the structures: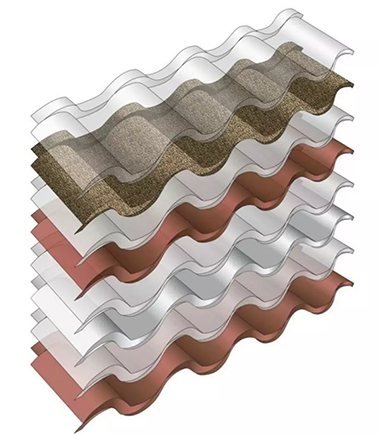 Stone Coated Metal Roof Panel Components
Overglaze – semi-gloss finish; added protection
Stone Granules – color; UV resistance; coverage
Basecoat – adhesion; UV protection; color blended
Acrylic Primer – priming system; enhances adhesion
Aluminum-Zinc Alloy Coating – prevents corrosion; protection
Steel – 0.33mm to 0.55mm thickness; load-bearing; flexible
Aluminum-Zinc Alloy Coating – prevents corrosion; protection
Acrylic Primer – priming system; enhances adhesion
In general, there are 3 main parts of raw material contents:
① Stone Chips ( Beautiful look, effective heat / UV resistant, noise reduction, anti-slip and etc features)
② Galvalume Steel Plate ( Eco-friendly and recyclable material, strong, light-weight, anti-corrosion, waterproof)
③ Acrylic Glue ( Premium sealing performance, strong adhesion, anti-algae)
Cuba Aluminum Roof Building Materials Roof Tiles Haiti Metal Slate Colored Galvalume Panel Corrugated Water Roofing Sheet

Accessories of Roofing System