The design of the ridge also deserves special attention when roofing with concrete roof tiles. sangobuild accessories include concrete ridge tiles that match all concrete roof tiles. These are mounted on the ridge with aluminum clips. Below, the range and hip roll protection again ensure perfect weather protection and adequate ventilation.
Description

Manufactured from the same material as our Sangobuild products, this ridge and hip fitting works perfectly with your roof slate. Universal fittings for any angle, sangobuild ridge and hip caps offer a degree of flexibility in securing and are compatible with our house
The same properties of top slate:
• Lightweight - as low as 12 kg per square meter.
• Easy to install with pre-marked nail guides and spacers.
• Cuts easily with a fine-toothed saw or a sharp utility blade.
• Ridges and hips are mechanically immobilized.
• Color selection (6 standard colors are available for immediate use.).
• 50 year warranty.
• Fully tested to ISO9001 standards, including fire rating, wind, snow and rain, and water absorption.
• Sangobuild ridge and hip covers are not made from recycled plastic, but from recycled virgin limestone and polypropylene.
Specification
| | |
| --- | --- |
| Product Name | Long Span Ridge Cap (Ridge Hips) |
| Material | Galvalume steel(Aluminum Zinc plated steel sheet=PPGL), Natural stone chip, Acrylic resin glue |
| Color | Black, Red, Blue, Green, Customized |
| Tile Size | 120cm x 15.8cm |
| Thickness | 0.35mm,0.40mm,0.45mm,0.50mm,0.55mm |
| Weight | 2-3.5kgs/pc |
| Certificate | SONCAP, COC, UL, ISO9001, CE |
| Used | Residential, Commercial construction roof |
The Advantage of stone roofing tile
1.Excellent durability and waterproof
High-quality aluminum zinc plated steel sheet and natural stone chip coating with acrylic resin glue make stone coated roof tile to superior corrosion resistance and waterproof. The warranty could be last up to 50 years.
2.Lightweight and easy to install
The weight of stone coated metal roof tile is only 1/6 of the traditional tile, only 5.20-6.40kgs/sq.m.It is easy to transport, store and install.
3.Economic
Because it is lightweight but big size, so it usually just takes 3-5days for 2 workers to finish all the installation for a common residence and related charge of shipment and installation be reduced sharply.
4.Noise reduction and heat insulation
The stone chips could reduce the noise when raining or hailing, it also could insulate from heat when exposing to extremely UV and keep warm in Winter.
WHAT'S STONE COATED?
It used to be that there were only a couple of types of metal roofing — corrugated metal, which has certainly improved over time but aesthetically has always been limited in options, or the much more costly copper cladding.
The latest product – stone coated metal roofing. Stone coated steel roofing is combined with the look of tile, shake or shingle or other types to give a strong, durable roof along with fantastic good looks. Whatever the style of your home or property, you will likely be able to find a metal roofing product to match your needs.
What materials do we use for producing 50 years warranty high-quality steel roofing sheets?
First, let's check the structures: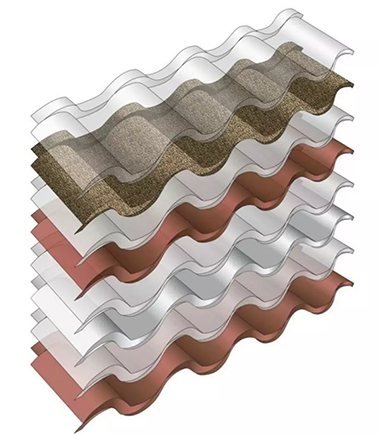 Stone Coated Metal Roof Panel Components
Overglaze – semi-gloss finish; added protection
Stone Granules – color; UV resistance; coverage
Basecoat – adhesion; UV protection; color blended
Acrylic Primer – priming system; enhances adhesion
Aluminum-Zinc Alloy Coating – prevents corrosion; protection
Steel – 0.33mm to 0.55mm thickness; load-bearing; flexible
Aluminum-Zinc Alloy Coating – prevents corrosion; protection
Acrylic Primer – priming system; enhances adhesion
In general, there are 3 main parts of raw material contents:
① Stone Chips ( Beautiful look, effective heat / UV resistant, noise reduction, anti-slip and etc features)
② Galvalume Steel Plate ( Eco-friendly and recyclable material, strong, light-weight, anti-corrosion, waterproof)
③ Acrylic Glue ( Premium sealing performance, strong adhesion, anti-algae)
Cuba Aluminum Roof Building Materials Roof Tiles Haiti Metal Slate Colored Galvalume Panel Corrugated Water Roofing Sheet

Accessories of Roofing System