What exactly is butyl tape?
Butyl tape is a kind of lifelong non-curing self-adhesive sealing waterproof tape made of butyl rubber as the main raw material, mixed with other additives, and processed through advanced technology. It has a good performance on the surface of various materials. Apart from strong adhesion, and excellent weather resistance, aging resistance and water resistance at the same time, it can also play a role in sealing, damping and protecting the surface of the adhered object. Aside from boat surfaces, it can also be applied to automobile, home, and RV surfaces.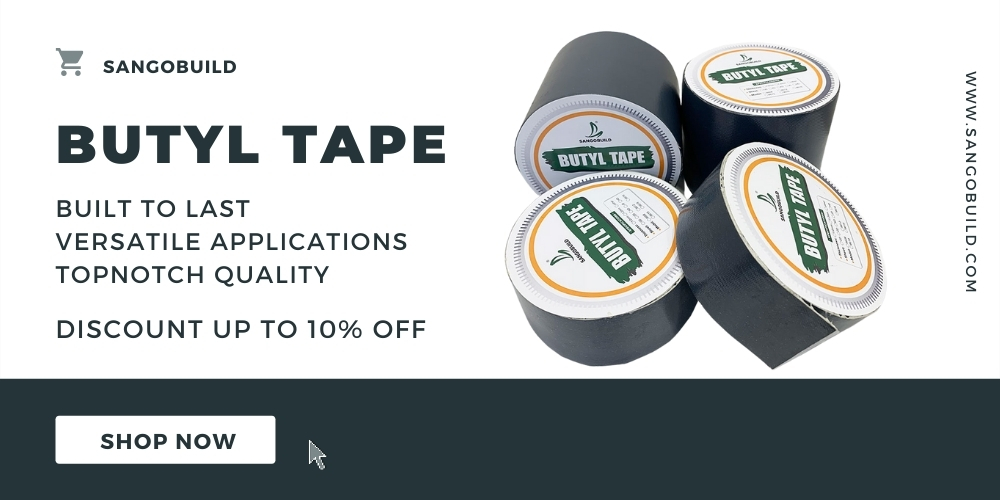 Butyl Tape Features
Butyl rubber sealant tape is heavy-duty and very reliable. It can do quick repairs in a flash and a mess-free manner. Butyl tapes are proven to be flexible and strong. They provide air-tight sealing for various surfaces. These include glass, windows, and even ethylene propylene diene monomer (EPDM) rubber roof patching.
The features of different butyl tape brands may vary. But they share common features, which include the following:
1. Professional Finish
By the end of your DIY project, you will be amazed by how neat, and mess-free everything is after using butyl tape. It is guaranteed to be watertight. Your DIY project will surely be leak-free against water, vapor, or any other corrosive chemicals.
2. Resistance to Chemical and Physical Degradation
Butyl tape features properties that make it anti-corrosive and temperature resistant. You can store it over a long period of time at any room temperature without worrying that its quality will deteriorate.
3. Built to Last for a Long Time
Most butyl tapes, if not all, undergo the high-temperature butyl tape tempering process. This is important to ensure that the tape can withstand various conditions. These include cold winter drafts, heavy rainfall, sunlight, ultraviolet light, and extreme weather conditions.
4. Versatile
Butyl tape is the tape of choice among boaters. But, of course, its uses are not limited to boating applications. Aside from boat surfaces, it is also ideal for automobile, home, and RV surfaces, among many others.
Many people consider butyl tape as an all-in-one solution because it can be used for numerous applications. Butyl tape can be used on many different surfaces, including the following:
Galvanized Metal
Aluminum
Plastic
Wood
Glass
Rubber Roofing
Butyl Tape Uses
Butyl tape can be used for the following:
1. Household
Butyl tape has waterproof and advanced adhesive properties. It is a reliable product to apply to areas where leakage and corrosion from humidity commonly occur. These include underground pipes and joints.
This tape is also ideal for dust removal equipment, roofing repairs, water pipe insulation, and ventilation systems, among many others. In case of leakage, butyl tape is capable of sealing it in a matter of minutes.
2. Window Sealing
Several types of sealants are ideal for doors and windows. But some people prefer to use butyl tape for the door- or window-sealing projects.
Butyl tapes are very convenient to use. They are easier to work with, which means that they are also easy to manage. This tape is conformable. It is convenient to install on window surfaces, even those with irregular curves.
3. Recreational Vehicles (RVs)
If you have butyl tape and own an RV, you will surely do DIY projects. The regular putty tape is rather more affordable compared to the RV butyl tape. But the cost of the latter is definitely all worth it.
4. Boats and Other Types of Vehicles
If you have a boat or other type of vehicle, you know that leaks can occur. That's why it is advisable to always keep a roll of butyl tape inside your boat or vehicle. You'll never know when you'll need it.
Butyl tape definitely comes in handy for emergency repairs. It is helpful if you need to fill gaps on a car firewall. Also, it is useful as a gasket between vibrating panels.