Gutters were created to carry rainwater from your roof into downspouts and safely to the ground to prevent water-related damage to your home. We are asked the question many times, which gutter material is best to use for a home? At various times and for various purposes, gutters have been made from a number of different materials.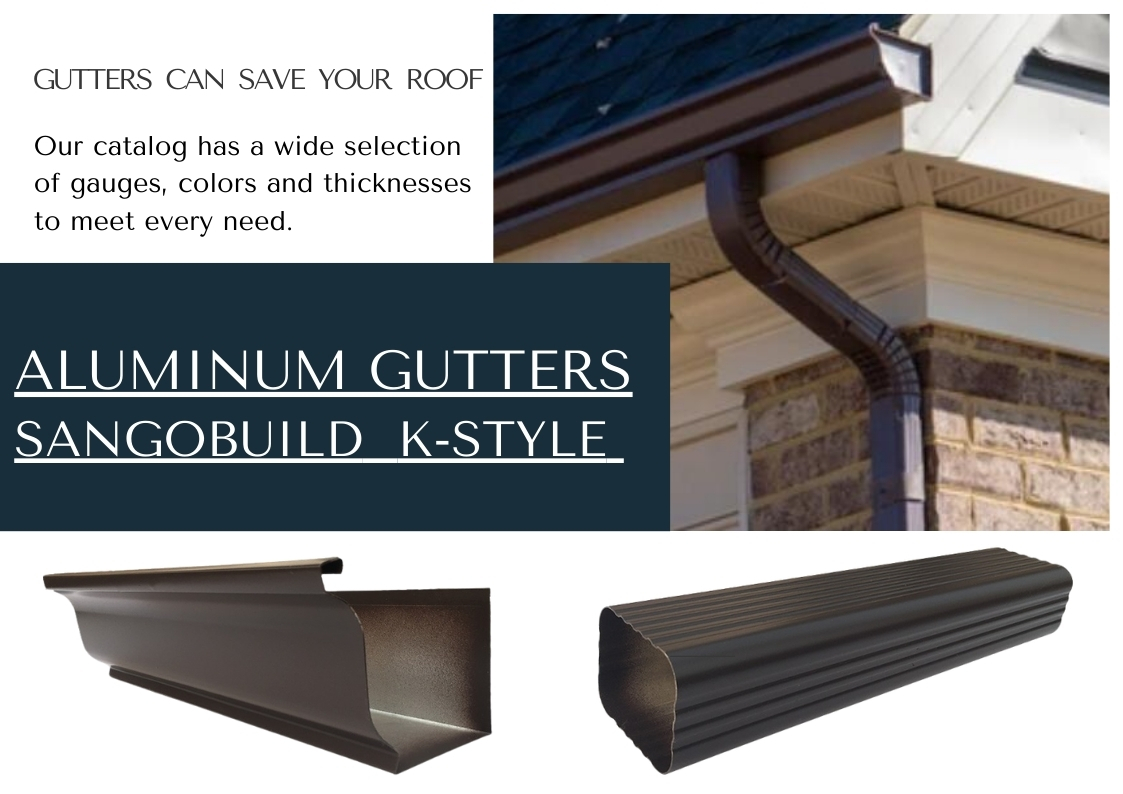 There are many types and styles of rain gutters available to homeowners. Rain gutters come in several types, sizes and shapes called profiles. These include U or half-round shapes as well as K configurations, in which the gutter front, when viewed from the side, looks like the letter K.
Most residential rain gutters come in two sizes, 5 inches, 6 inches, and 7 inches, and are made of either aluminum, galvanized steel, or copper in a standard "K" style.
The most popular residential rain gutter type is aluminum. The metal comes on a long roll and it's formed into the shape and length required. Originally only available in silver, early aluminum rain gutters soon were painted white, and eventually painted in a variety of colors to match house siding, roof, and trim, making rain gutters not only functional but a design feature as well.
Aluminum Gutters
The most popular residential gutter type is made of seamless aluminum, known as formed K-style gutters. Aluminum gutters are strong and lightweight. Seamless aluminum gutters come in many colors and are formed into the shape and length you need at your home.
Copper Gutters
Copper is usually reserved for classic restorations. It's handsome, never rusts, and never needs painting. They are expensive, but add value to your home and require less maintenance than aluminum or other materials. However, Copper gutters will oxidize and turn green over time unless they are treated.
Steel Gutters
Steel gutters can stand up to ladders and fallen branches better than aluminum. But even thick galvanized steel eventually rusts through and needs to be painted, inside and out. Stainless-steel gutters are strong and rust-free and maintain their high sheen for years.
Vinyl Gutters
Vinyl is a commonly used material, often sold in hardware stores in six and 12-foot sections to do-it-yourselfers. In regions with hot sunny temperatures, vinyl guttering will crack under the harsh conditions and break apart. They do not rust or corrode, however, and do retain their color.
Fascia Gutters
A fascia gutter is a rainwater system that is fixed to a fascia board. It is often a custom-made rainwater gutter that is fixed to the ends of the rafters and also performs the function of a fascia board.
Today's Gutter Systems
A "gutter system" refers to the arrangement of gutters and downspouts on your home to channel water safely away from your roof to the ground. The style and size of your house dictate the placement of the gutters and downspouts to form a "gutter system."
Today, the most commonly used residential gutter system is the seamless aluminum gutter. Other rain gutter systems available today, though not as popular or resilient as aluminum gutters, are made of wood, copper, steel, and vinyl. There are also specialty gutters, used on older homes, custom homes, and in certain geographic areas, known as half-round, quarter-round, fascia, and integral gutters.
Aluminum gutters are strong and lightweight, come in a variety of colors, and are formed and cut to length at your home by a professional installer. Most seamless gutter systems are open troughs that can easily collect leaves, twigs, and other debris, impeding the flow of water, causing leaks, sagging, and damage to your home's structure. To avoid these problems, many homeowners purchase screens, filters, and hoods to cover open gutters.