Architectural asphalt shingle Is also known as fiberglass shingle, linoleum shingle, and fiberglass asphalt shingle. Asphalt shingle is a new type of high-tech waterproof building material and also a new type of roofing material used in building roof waterproofing.
Asphalt shingle is a new type of roofing material used in building roof waterproofing. The use range of asphalt shingles is not only for villas but it can also be used as long as it can meet the construction requirements: cement roof thickness not less than 100mm, wooden structure roof not less than 30mm, in addition to all the functions of the tile, it Another feature is that it is especially suitable for roofs with slopes of 5-90 degrees and roofs of any shape. But it is not suitable for flat roofs.
Asphalt shingles are called fiberglass asphalt shingles, or fiberglass shingles or asphalt shingles for short. Because their main material is asphalt, they are generally called asphalt shingles in China.
The advantages of Hot sale asphalt shingle: first, diverse shapes and wide application range. Second, heat insulation and heat preservation. Third, the roof is light-bearing, safe, and reliable. Fourth, the construction is simple and the overall cost is low. Fifth, it is durable and there is no worry of breaking. Sixth, rich colors, beautiful and environmentally friendly, seventh, waterproof, corrosion-resistant, eighth, wind-resistant, dust-proof, and self-cleaning.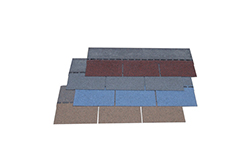 Architectural Asphalt Shingle
Several characteristics of asphalt shingles
1. Weather resistance. Long-term research and test results of asphalt shingles show that asphalt shingles have the ability to resist sunlight, heat, cold water, and freezing.
2. Fire resistance.
3. Wind resistance. After laboratory tests, it can resist strong winds.
4. Economy. The high-efficiency and mass production of asphalt shingles coupled with relatively low construction costs make other roofing materials incomparable in terms of economics. Moderate installation costs, coupled with long service life, make the average annual cost or life cycle cost of asphalt shingles very low.
5. Easy to construct. Asphalt shingles are considered to be the easiest construction material among all roofing materials.
6. Flexibility. Due to the flexibility and strength of asphalt shingles, asphalt shingles can be used on a wide range of roofs of various styles.
7. Beautiful. Asphalt shingles come in various colors, shapes, and sizes, which make the roof clear.
8. Adaptability to architectural style.
9. Low maintenance. The correct selection and construction of asphalt shingle roof generally require little maintenance, and it is more convenient to repair once damaged.
Asphalt shingles are widely used in the construction of high-end residential areas, villas, and ordinary houses due to their high-quality properties such as windproof, waterproof, long-lasting resistance, and easy installation.
The general service life of a long lifetime asphalt shingle can be as long as more than 20 years. If it is of better quality, its service life can be more than 30 years. Quality is the key to the service life of asphalt shingles. Due to the mature progress of production technology and the use of high-quality raw materials for production materials, the quality of asphalt shingles is greatly improved, so its service life will be longer.
Although asphalt shingles have a long service life, proper daily maintenance and construction process can extend the life of fiberglass asphalt shingles. If you want to know more information about asphalt shingles or other related knowledge, please contact us.