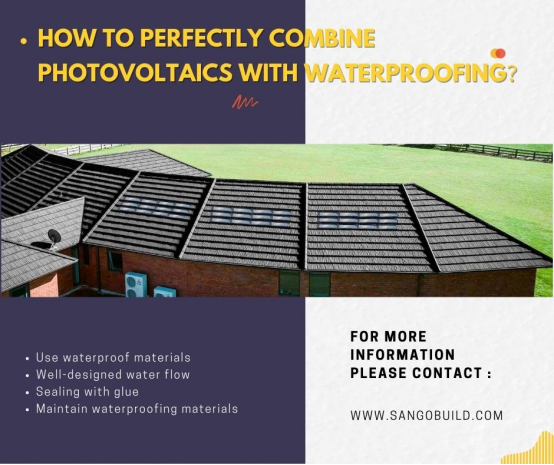 The construction of photovoltaic power plants needs to take waterproofing into account, because the equipment, components and cables of photovoltaic power plants need to be waterproofed. At the same time, photovoltaic power plants need to work outdoors for a long time, so waterproof materials and processes must have durability and UV resistance. Here are some ways to combine photovoltaics and waterproofing perfectly:
Use waterproof materials: materials with good waterproof performance can be used, such as EPDM (ethylene propylene rubber), PVC (polyvinyl chloride) or TPO (thermoplastic polyethylene-styrene butadiene rubber) and other materials, which have good waterproof performance and durability sex.
Well-designed water flow: In the design of photovoltaic power stations, the flow direction of water flow and the design of the drainage system should be considered to ensure that the water flow will not accumulate in the power station, and the drainage system can be used to guide rainwater into the catchment.
Sealing with glue: During the installation of the components, glue can be used to combine the components with the roof panel to achieve the effect of sealing. Glue sealing not only prevents water penetration, but also increases the stability of components and roof panels.
Maintain waterproofing materials: Regular maintenance of waterproofing materials ensures that their performance is not affected by the elements. If there is any damage or crack, the waterproof material should be repaired or replaced in time.
In general, the combination of photovoltaics and waterproofing requires comprehensive consideration of materials, design, construction and maintenance. During the construction of a photovoltaic power station, appropriate waterproof materials and methods should be selected according to the actual situation, and regular maintenance and inspection should be carried out to ensure the waterproof performance and long-term stability of the photovoltaic power station.