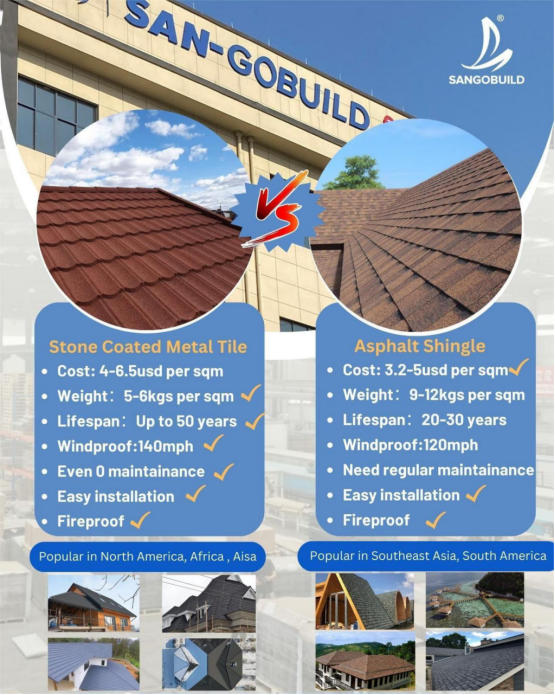 Exploring the realm of roofing materials reveals two prominent contenders with their own sets of distinct advantages: asphalt shingles and stone-coated metal roof tiles. These options not only ensure the protection of your home but also contribute to its aesthetic appeal. By delving deeper into the qualities of each choice, you can garner valuable insights that will empower you to arrive at a well-informed and confident decision regarding the ideal roofing solution for your unique needs.
Asphalt Shingles:
Asphalt shingles are a common type of roofing material used on residential and commercial buildings. They are composed of a base material, often fiberglass or organic materials, that is saturated with asphalt to make it waterproof. This base material is then coated with a layer of ceramic granules that provide color, texture, and protection from UV rays.
Stone-Coated Metal Roof Tiles:
Stone-coated metal roof tiles are mainly composed of metal substrate, adhesive layer, stone granules, base coat, and clear coat. These tiles are engineered by layering metal sheets with stone chips, creating a visually appealing roofing solution that mimics the appearance of traditional materials such as clay or slate.
Let's take a closer look at each option to help you make an informed decision:
1. Cost: Asphalt shingles are generally more affordable upfront compared to stone-coated metal roof tiles. Metal roofs can be more expensive initially, but their longer lifespan and lower maintenance costs can make them a more cost-effective option in the long run.
2. Lifespan: Stone-coated metal roof tiles typically have a longer lifespan than asphalt shingles. Metal roofs can last 50 years or more, while asphalt shingles tend to last around 20-30 years.
If you plan to stay in your home for a long time, investing in a metal roof may be a better option.
3. Maintenance: Asphalt shingles require regular maintenance, such as cleaning, moss removal, and occasional repairs. Metal roof tiles are generally low-maintenance, requiring only occasional inspections and cleaning to remove debris.
4. Durability: Stone-coated metal roof tiles are generally more durable and long-lasting than asphalt shingles.
They can withstand extreme weather conditions, such as high winds, hail, and heavy snow, without sustaining damage.
5. Both stone coated metal tile and asphalt shingles are fireproof and very easy to install.
6. Market trend: Stone coated metal tile is getting more and more popular in North America, Asia, and Africa while Asphalt shingle is popular in Southeast Asia, and Central and South America.
Above all, choosing between asphalt shingles and stone-coated metal roof tiles ultimately depends on your specific needs, preferences, market trends and budget.
If you wanna know more information about roofing materials, just feel free to contact us.