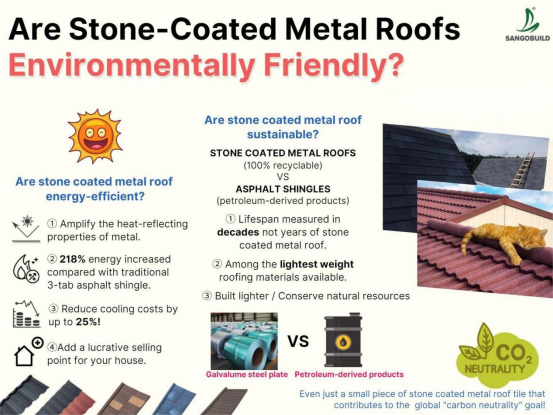 #1 Stone-coated metal roofs are energy-efficient.
They can reflect heat up and away from homes.

Taking energy efficiency even further thanks to infrared-blocking pigments in the stone granules, amplifying the heat-reflecting properties of metal.

Increased energy efficiency by as much as 218% compared with 3-tab asphalt shingle roofs by a study.

Homeowners can reduce cooling costs by up to 25%, if you're looking to sell the house, adding a stone-coated metal roof can be a lucrative selling point.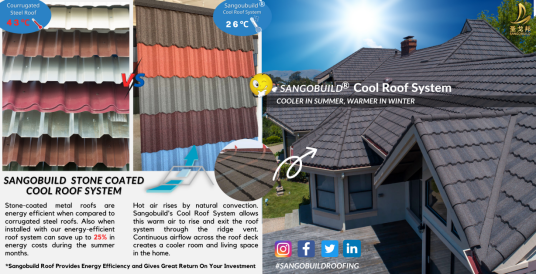 #2 Stone-coated metal roofs are sustainable
Lasting two to three times longer than traditional roofing materials such as asphalt, wood, and clay tile.


For the most part, old asphalt shingles are not widely recycled and are not biodegradable. And, as a petroleum-based products, they are not considered sustainable. (Considering asphalt shingles contribute 11 million tons of landfill waste each year.)

When a metal roof does come to the end of its life cycle, which is measured in decades not years, they are 100% recyclable.

The lightest weight roofing materials available,which means transportation is more energy-efficient. And it's made from steel, which is endlessly recyclable.

New homes designed with metal roofing can be built lighter, conserving natural resources

Never ignore the contribution of a small piece of roof tiles to global carbon neutrality!

With stone-coated metal roofing, homeowners benefit from an environmentally-friendly roof that provides both the strength of steel and style to suit any home.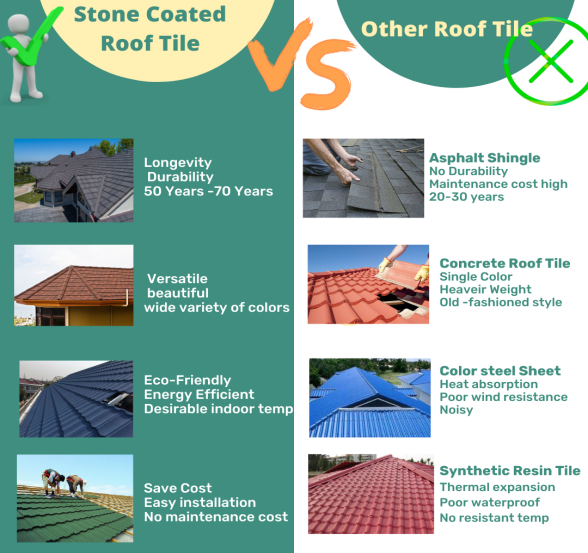 #3 What sustainability means to us
Sustainability by definition is inherently broad. Generally, however, there is a commonly understood idea of sustainability – the capacity for continuance into the long term. Sustainability is a process, a journey without an end; continuous improvement is the end in itself.