Nowadays, buildings attach great importance to thermal insulation or heat absorbed. Colored stone coated metal roof can be used for thermal insulation and play a role in warming the winter and cooling the summer. At the same time, combined with a reasonable building/ roofing structure, the roof insulation can achieve the best.
If you are considering the heat insulation performance of the roof or want to replace the old roof tiles, please continue reading to learn about the selection of roof materials and heat insulation tips.
First of all, the thermal insulation performance of colored stone metal roof tile is determined by its raw material performance. It uses Galvalume(GL)steel sheet (Aluminum-zinc alloy coated steel sheet)as the base plate panel, and the steel plate itself has thermal insulation. Compared with the traditional color steel sheet tile, the surface of the stone coated metal tile has a layer of vermiculite sand sintered at high temperature, which not only reflects some sunlight, but also has the characteristics of nonthermal conductivity, so the stone granules have good thermal insulation performance.
Secondly, in general, during roof construction, battens and counter battens need to be installed below the shingle roof tiles, and there will be a cavity between the roof and tiles, which can play a very good role in heat insulation.
The air circulation heat insulation method is one of the common heat insulation methods for roofs. A hollow interlayer of about 20~30cm is left on the roof. When the sun is exposed, because there is flowing air below, good air circulation and air interlayer use the principle of wind pressure and heat pressure to dissipate most of the heat, thus reducing the temperature transmitted to the lower surface of the roof and achieving the purpose of heat insulation and cooling.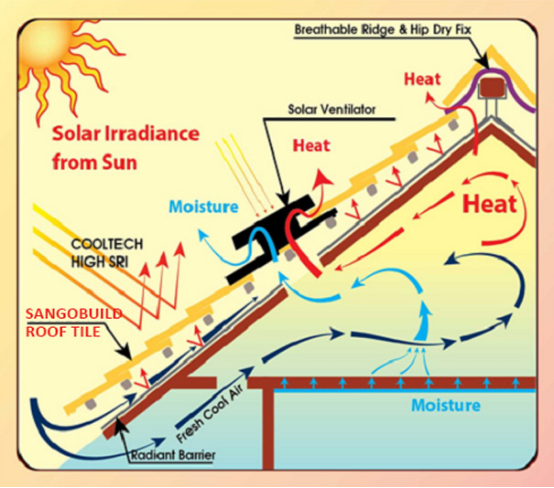 If there are extremely hot areas with high requirements for thermal insulation, aluminum layer bubble film thermal insulation materials can also be used to install under the colored stone metal tiles, which has a dual effect. The heat insulation effect is very good!

What are the Benefits of a Cool Roof?
A cool roof can significantly reduce your cooling energy costs and increase your comfort level by reducing temperature fluctuations inside your home. Average energy savings range from 7%-15% of total cooling costs. Some other benefits include:
l Cool roof reducing your utility bills associated with air conditioning
l Increasing occupant comfort and avoid installing an air conditioner where there isn't already one
l Decreasing the size and prolong the life of your air conditioning system
l Lowering roof maintenance costs and extend roof life, avoiding reroofing costs and reducing solid waste
l Cool roof assist your home in meeting building codes
l Mitigate your community's Urban Heat Island Effect
l Maintain aesthetics with a roof that performs and looks good
l Cool roof receive utility rebates (in some locations)